In the blog post on reselling niche selection, we showed you what you should consider when choosing your niche. Once you have found a reselling niche, you need to start looking for products. In this post, Ben gives you some tips on how to do that. Ben is an instructor on Udemy and has published a course where you can get in-depth tips and guidance on the reselling business.
Generally, there are several things to look out for in order to grab real bargains. In this post, I will focus on the eBay (-classifieds) platforms, as these are the most common platforms for resellers. I will now show you what to look for when searching for products.
The search keyword
First of all, you should ask yourself what you want to buy and keep the search keyword as general as possible. Why? It is important that you find all the items in your niche so that you can get real bargains. For example, you want to buy an iPhone 5s. Then write only "iPhone 5s" in the search bar and do not add words like "iPhone 5s black" or "iPhone 5s 16Gb". Sounds simple, but it is very effective. There are always resellers who use nested search terms and then are surprised that they hardly find any products.
Use a typo in the search keyword
Now I would like to give you another interesting tip that will help you have even more success in your product search. Let's go back to the iPhone 5s example. Most resellers type the search keyword into the search and think they now have all the offers available. But that's not quite true, because there are of course also sellers who name their offers incorrectly and for example only write "Apple 5s" or something similar. How can you take advantage of that as a reseller?
---
Are you looking for good reselling deals? We have developed a free app that informs you about the best reselling deals every day. Download it now for free and find deals!
---
Use category function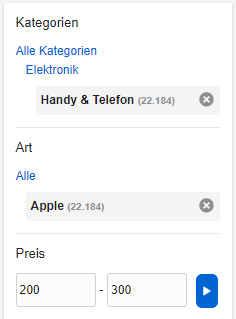 If you want to find these hidden offers, it is worth using the category function of eBay Classifieds. For example, you can select the category "Mobile & Phone" and then click on "Apple". Now you will be shown all Apple phones, but if you now search in a suitable price field, you will see that you will find offers that would not have been shown to you before. To do this effectively on eBay, there is a very useful free tool.
Tools help
BaySearch offers you the possibility to find offers with a typo. So you enter your search term on the platform and BaySearch automatically forms possible spelling errors. Then you will be redirected to eBay, where all ads listed have a spelling error. The advantage of such ads is that these ads get much less attention because many people search for e.g. "iPhone" and thus don't see an ad with the title "iPone". So this is a good opportunity to make an ultimate bargain. So always be on the lookout for such offers and use such tools so that you see even more ads and stay one step ahead of the other resellers and buyers.
Automated reselling products search
The constant search for offers can be quite time consuming. But there are some ways you can automate the search for offers more and spend less time.
Place search ads

In addition to the possibility that you actively search for offers, you can also simply have offers sent to you. On popular classifieds platforms, such as eBay Classifieds or Shpock, you can not only create offers but also place search ads. If you place such an ad, people will regularly contact you and make you an offer. You can then decide for yourself whether it is a worthwhile offer or not. The advantage of this is that the offers are presented to you on a silver platter, so to speak, without you having to be active.
Automated deal search on eBay Classifieds
The option to place search ads on eBay Classifieds, on the one hand, relieves you of work that would otherwise have to be spent on the search. However, you miss out on good deals from the active search. Not everyone pays attention or sees the search ads. The sellers on e.g. classifieds are often not aware of the actual prices and advertise their items at low prices. Here, it's first come, first served.".
As a rule, with resellers, sought-after items are sold within a few minutes. To make sure you are the first to know about new listings, we have developed the Classifieds Monitor. It monitors your search queries and informs you as soon as a new listing is available. Unlike the notification function of eBay Classifieds, our monitor sends the notification within a few seconds. With the notification function of eBay Classifieds, it takes about 30 to 60 minutes. This gives you a big advantage over your competition.
Our Deal Finder
We at Knallerfalke have programmed software that searches the Internet automatically and around the clock for good deals to resell. It searches large, well-known online stores, such as Amazon, for strong discounts and sends out a push notification via the free app when such an offer could be determined. Similar to search ads, not every offer is a hit here by a long shot. Still, it's a great time saver, since you passively get potential offers sent to your phone on a regular basis instead of having to actively search for them all the time.
---
Download now for free and become a reseller!
---
Find out the selling price
In order to ultimately decide whether an offer is worthwhile, the price is of great importance. The current offers on the market are rather less suitable for determining the actual price because they were not necessarily sold at these prices. To find out the actual market price, there is a very useful function on eBay.
eBay: Ended listings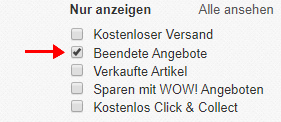 On eBay, you have the possibility to filter for "ended offers". You can use this feature to see at what price other iPhones have sold and at what price they have not. The important thing is to get a good overview and find out a reasonable selling price for which you can sell your iPhone. Let's say an iPhone 5s has an average price of 65€ in mint condition: Then the next step is to find an iPhone that costs only about 30-40€. But beware: under the "ended offers" on eBay you will not find all sold offers. eBay shows you here strangely only some of the sold offers. To find out more you can go to the sold offers and see how many of them were actually sold:

The eBay sales platform is also suitable for reselling found products. The eBay account setup is uncomplicated and quickly done.
I wish you good luck with your reselling and hope you were able to take something away from my article. If you are looking for inspiration, it can be helpful to look at the experiences of other resellers and use the knowledge to build your own reselling business.