Investors looking to diversify their holdings have historically turned to many sources: foreign markets, real estate, cryptocurrencies, art, or even flowers. And then there's LEGO®, the ever-famous plastic bricks that have been the enemies of many unprotected feet for more than 80 years. Meanwhile, more and more investors are seeing Lego as an investment that can generate high returns.
A simple example: In 2000, an enterprising investor might have bought some index funds from the S&P 500 and doubled the money to date. By contrast, if that person had invested in one (or more) collector's editions of the LEGO Imperial Star Destroyer for 270 dollars, he or she could have quintupled the investment. Today, the same factory-sealed set can fetch over 1,500 dollars.
Huw Millington is the founder and creator of Brickset.com, an online community dedicated to buying, selling, collecting, and discussing all things LEGO. The site currently has over 210,000 registered users and recorded over 100 million page views annually in 2016.
While still a web developer, he launched an early form of Brickset in 1995, originally designed to track promotional LEGO sets that weren't cataloged anywhere else on the Internet. But it quickly became a database of sorts, a definitive compendium of all LEGO sets ever produced. So investing in Lego already has a certain tradition to it.
There are many websites that mirror the purpose of Brickset, offering a wide range of tools for tracking LEGO data: Partial inventories, historical sales, offers from various retailers, and even a live price ticker.
Do you want to become a Lego investor? Then download our free app and get the best Lego deals directly to your phone!
Who buys LEGO® sets?
AFOLs (Adult Fans of LEGO®), adult LEGO fans, represent a large portion of the buying power in the LEGO aftermarket, supported by fan-curated websites and in-person meetings and conventions around the world. This is not at all surprising. Toys are the number one collectible category across all age groups.
Investing in LEGO is an expensive hobby, and some AFOLs buy and sell their bricks to fund their own collections. However, there are also dedicated LEGO investors, that is, people who are not necessarily fans of the product but see an opportunity to exploit a niche market. These operate professional Lego reselling, accordingly they buy Lego sets and sell them again after some time when they have increased in value.
Prices for Lego bricks, when released, are fairly consistent. Sets typically cost about 10 cents per brick, 36,000 of which are formed per second at the LEGO factory in Billund, Denmark. Prices for LEGO sets range from a few dollars to hundreds, attracting buyers of all ages and backgrounds. A modest version of the Star Wars Millennium Falcon released in 2018 cost 9.99 dollars for 92 pieces, while the larger-scale Falcon released in 2007 contained 5197 bricks and cost 499.99 dollars.
What makes a set valuable?
LEGO sets often only stay in production for a year or two before they are "retired." And once a set leaves the store shelves, its value often skyrockets. This is where collectors and investors come in. The $499.99 Millennium Falcon from 2007? It's currently selling for well over $1000.
On Brickset, you'll find a discussion chain with over 5,000 responses from collectors who run Lego as an investment and share information to get the best deal. To store their sometimes massive inventories, some collectors are converting and redesigning entire rooms in their homes. But passion can also have legal consequences.
In 2012, CFO Thomas Langenbach was arrested while buying a LEGO X-Wing Starfighter at his local Target. Langenbach printed his own low-price stickers at home and stuck them on LEGO sets before checkout at stores, sometimes paying less than a fifth of the actual price. He made more than $30,000 reselling the sets on eBay.
But what exactly makes a set valuable now? A big indicator of value is the theme of the set, according to authors Ed and Jeff Maciorowski of The Ultimate Guide to Collectible LEGO Sets, The Ultimate Guide to Collectible LEGO Sets.
Licensed objects like Star Wars are usually valuable, as are original LEGO themes like LEGO Ideas and LEGO Architecture. LEGO Creator contains one of the most valuable sub-themes, the Modular Buildings series. These are some of the most expensive sets LEGO sells, and each set can be attached to another to form an entire city block, an enticing prospect for the completist collector. The first modular building produced, the Cafe Corner, was released for $139.99 and today sells for more than $1600 when new.
That's a great return on investment, isn't it? If you want to become a Lego investor, download our app now.
Ultimate Collector´s Series
In 2000, a year after the original Star Wars LEGOs hit the market, the company introduced the Ultimate Collector's Series (UCS), a theme for high-end Star Wars sets, the first designed specifically for adults. Due to the massive number of bricks and intricate detail, there was a large gap between the UCS Star Wars sets and the previous ones, both in quality and price.
To understand the difference, we can turn to one of the most iconic spaceships in Star Wars, the X-Wing. The standard edition was one of the first Star Wars sets to come out with minifigures of Luke Skywalker, R2-D2, and deleted scene victim Biggs Darklighter. The set originally had a price of 29.99 dollars.
The following year, LEGO released the collector's version of the same ship for 150 dollars, with five times the number of bricks at five times the price. This set, with a display stand and descriptive board, was clearly designed with the AFOL – community in mind, and today fetches over 400 dollars in factory-sealed condition.
Developing with Star Wars opened up a whole world of licensing opportunities: Harry Potter, Lord of the Rings, Batman, and more. When a new movie comes out, LEGO sales of that particular theme jump. The Ultimate Collector's Series included Star Wars models from all factions and eras, and also created a way to branch out and create adult sets among a variety of other themes. It was an entirely new business model for a company that was struggling just a few years earlier.
How to invest in Lego®?
First of all, here are three more examples of investments that I regret not having made in recent years:
LEGO®-Floor Carousel: The selling price in 2009 was 249$, today it sells for 2000$, which represents an annual yield of 29.75%.
LEGO®-Taj Mahal: The selling price in 2007 was 299$, today it is sold for 2000-2100$ (20.93% annual return)
LEGO®-Millennium Falcon UCS: While it was sold at a price of 499$ in 2007, today the price is 2500$ (17.49% annual return)
The returns on LEGO investments can therefore be far higher than those of the conventional stock market.
If you want to invest in LEGO, what are the things you need to consider?
1) Check the reviews about Brickpicker

In the same way, you would search for stocks on the Internet, there is also a rating agency for LEGO known as Brickpicker. Here you can see all the information you need about sets and bricks. It also provides a live ticker for certain special editions.
Brickpicker helps LEGO collectors and enthusiasts keep up to date on all prices for LEGO sets, both used and new, in order to successfully pursue Lego as an investment.
2) Choosing the right LEGO® sets
Which bricks and sets are the right choice when investing in LEGO? Basically, there are of course more common and rarer sets or bricks, even though all of them are usually discontinued after 2 years. Among the rare sets can include:
Amazing minifigures, for example, Chewbacca in Harry Potter
Limited editions
Rare items that collectors can look for immediately after they are made. For example. Disney Castle or Millennium Falcon (UCS)
Sets with timeless pieces
Licensed themes, for example, Star Wars and Harry Potter.
Popular themes with collectors, for example, Creator Expert and Architecture
3) Do not buy on the secondary market
If you see LEGO as an investment, this means never buying bricks and sets on the secondary market. Of course, the purchase cost can be significantly lower, but you can get counterfeits, damaged bricks, and sets, and it is essential for a price increase that the set is in original packaging condition. The same applies to orders from abroad unless it is from general stores such as Amazon.
4) The right time to buy
As with any investment, the purchase price is very important for your return. In most cases, it is not worth buying a set after release, because over the first 1-2 years the Lego sets fall in value. Therefore, you should only invest in the set when it disappears from the market in a few months (i.e. goes EOL). When a set goes EOL is unfortunately not so easy to say and especially not easy for beginners to estimate. But for that, you can use the Brickfact Lego Price Comparison, where the EOL status is updated daily. You can search there for single sets or you can see all sets that will go EOL soon or in the medium term. If a set is marked as "coming soon" or "medium term" you can include it in your shortlist. Especially interesting for investments are exclusive Lego sets, which are sold exclusively by Lego itself and are rarely available with discounts. In combination with the Lego VIP program, you can still get the most out of your purchase and collect points while shopping. These points could later be redeemed for vouchers or small Lego sets.
Also, it's important that you try to find good discounts for the Lego sets because as we all know, the profit is in the purchase. So that you don't have to do this work, we have developed a free iOS and Android app for exactly this purpose, where you can see the best discounts and investment opportunities every day. You can also see the EOL status and make ideal investment decisions.
5) The right time to sell
As with any other type, you have to be patient when investing in LEGO. If you want to make money on a set, wait until it is no longer in production before you sell it. Unfortunately, you can't know in advance when exactly the set will appreciate the most. But you should hold it for at least 1-3 years to get a good return. As you can see in this example, the Lego set falls first after release and as long as the set is still in production you could buy it for a good price. But as soon as this set went EOL the price went up. Investors who waited 1-2 years to sell this set were able to get a very good return up to that point.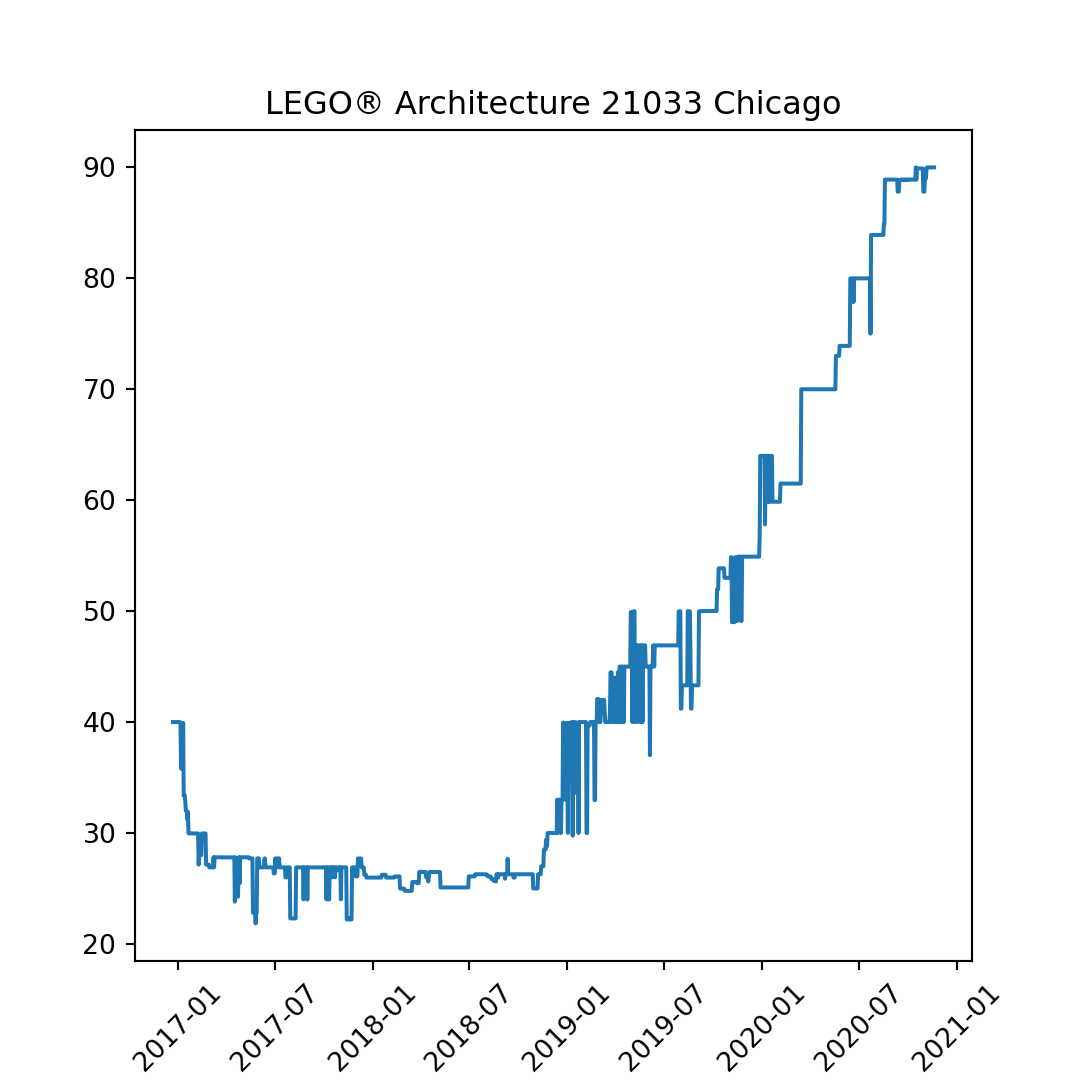 The set in the graphic has generated a return of over 100% per year. If you don't want to miss this anymore download our free app now with the best Lego deals to invest in.
6) Do not underestimate the value of minifigures
Some minifigures are rare and of high value. The Star Wars or Disney minifigures are good examples. If you search on eBay for "Lego minifigures" you will get a small impression: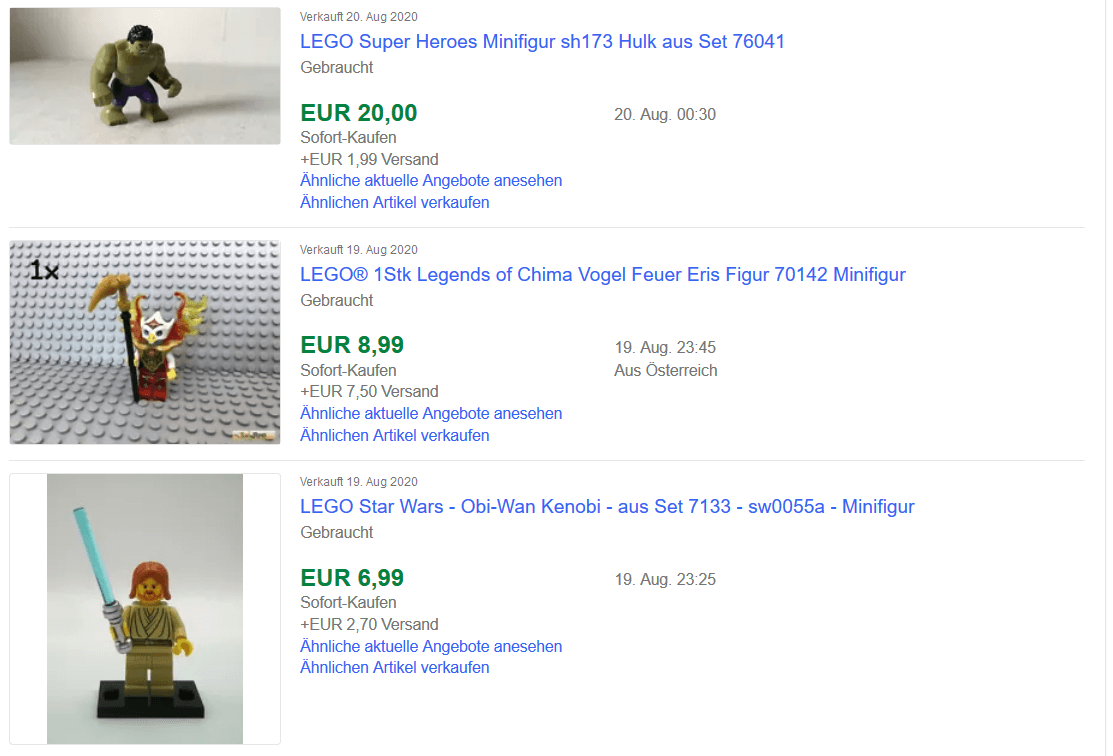 7) Avoid using the sets
If you want to run LEGO as an investment, you should handle it like any other kind of investment. Know your goals, and leave the merchandise in its original condition. If your LEGO sets have not been opened, they will remain valuable over the years. If, on the other hand, they have been used, the resale value will be greatly reduced.
8) Buy the sets in pairs
In principle, two sets can also bring in twice the profit on a resale. But of course, it can also be that you want to use a set yourself at some point. In that case, there would still be one available for resale. Also, remember that the regular buying and selling of Lego sets is a commercial activity. Accordingly, it is recommended to register a business.
9) The correct storage
Investing in LEGO® is one thing, the other is the proper storage of the purchased goods. Dry and weather-free storage is highly recommended. Especially the cardboard packaging of the sets is sensitive to moisture and can begin to curl or even mold in unfavorable conditions.
Conclusion
LEGO® as an investment can definitely pay off and bring high returns in the long run. It is important to do thorough research beforehand and to treat the sets and bricks like an investment made in shares. It is important to always keep up to date, wait for certain sales windows, and be patient. However, there is no denying that because you are a LEGO fan anyway, or for nostalgic reasons alone, investing in LEGO can be much more motivating and ultimately more fun than the dry index market. Also for people who are reselling, investing in colorful bricks is an interesting way to build up another source of income.
Disclaimer: LEGO ®️ is a trademark of the LEGO Group. This website is not sponsored, authorized, or endorsed by the LEGO Group.